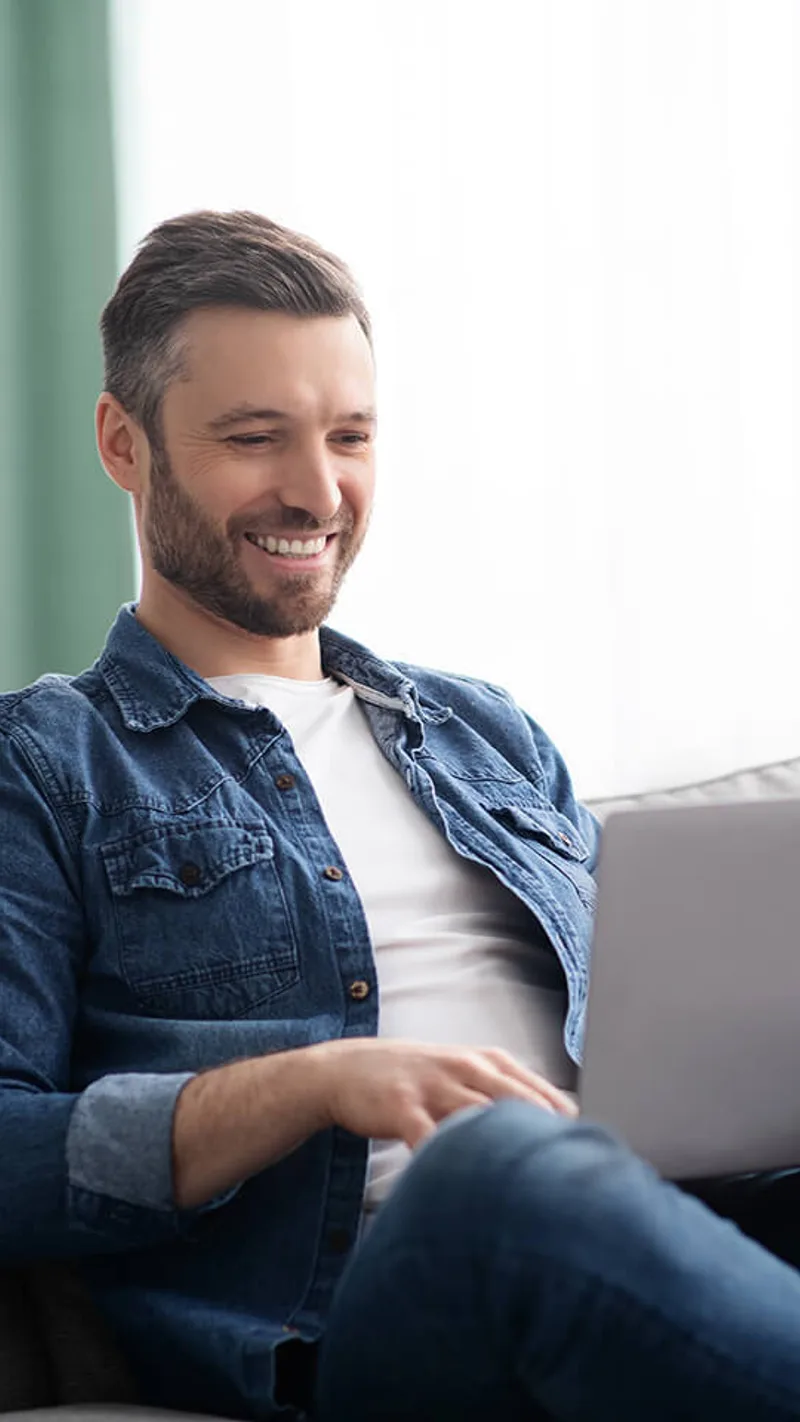 free checking account
Easy and affordable. What checking should be.
For those who want a checking account that's truly free.
No Minimum Balance Requirement
Free checking means no minimum balance requirement or monthly service charges.
No Monthly Fee
No monthly service charges
Instant electronic payments accepted worldwide
Access over 30,000 surcharge-free ATMs nationwide**
Instant, 24/7 access to account balances to make managing your personal finances hassle-free
Save More With Your Free Checking Account
| | |
| --- | --- |
| Best For | Monthly Maintenance Fee |
| Those who want the convenience of a checking account without paying fees. | $0 |
| Best For | Opening Deposit |
| Those who want the convenience of a checking account without paying fees. | $0 |
| Best For | Minimum Balance |
| Those who want the convenience of a checking account without paying fees. | $0 |
| Best For | Minimum Check Charges |
| Those who want the convenience of a checking account without paying fees. | None |
| Best For | Overdraft Transfer*** from Savings |
| Those who want the convenience of a checking account without paying fees. | Free |
More Benefits You Can Count On
Account Insurance
Up to $250,000 per account
Loan Discounts†
Eligible members meeting requirements receive 0.50% discount
YOUR Checking Account in YOUR Hands
Designed to take full advantage of the built-in features of a smartphone or tablet, our mobile app offer exceptional convenience in accessing and managing your ALEC accounts from virtually anywhere.
Check Balances
Make transfers
Review account activity
Find ATMs & branches near you
Deposit checks
Download the ALEC Mobile Banking app now for Android or Apple.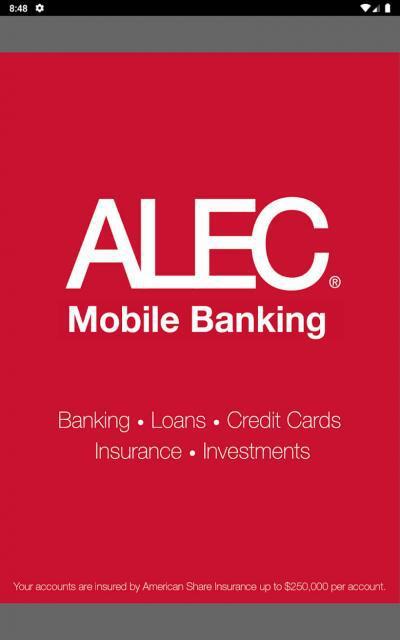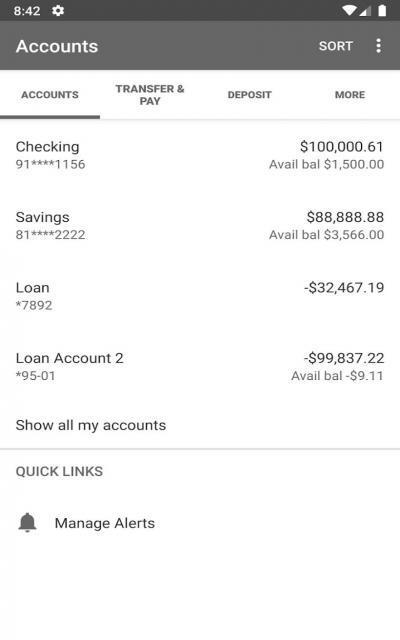 Free Checking FAQ
Do I need to be an ALEC member to apply for a Free Checking account?
Opening a free checking account with ALEC is easy. However, first you need to become a member of ALEC Credit Union. The following people are eligible for membership:
Abbott and AbbVie employees and retirees
Current Abbott and AbbVie employee family members
Current ALEC members' family members
ALEC has a broad definition of family member. Individuals who qualify as family members of Abbott and AbbVie employees and ALEC members include:
Spouses and domestic partners
Parents, grandparents, and in-laws
Children, grandchildren, and legal dependents
Aunts, uncles, and cousins
Nieces and nephews
Coming to us from another financial institution? Take advantage of the ALEC Switch Kit for a smooth, streamlined transition.
You can start an application online, or stop by one of our Service Centers to begin the process. Joining is fee free — all you need is a $5 deposit in your new ALEC savings account to get started.
When will I receive my new Visa® debit card?
The application is quick and easy. However, once you open your checking account, you may need to wait seven to ten days for your new debit card to arrive. You can activate immediately upon receiving it and begin making debit card purchases.
What if my debit card is lost or stolen?
ALEC offers zero liability if you experience fraudulent transactions. If you notify ALEC as soon as you are aware of potentially fraudulent transactions (no more than 2 business days), you could lose only $50 from your account. You may lose up to $500 if you wait more than 2 business days, or even all the money in your checking account.
As long as you haven't been engaged in fraud or grossly negligent, ALEC will not hold you personally responsible (liable) for the fraudulent transactions, except for ATM and other transactions requiring use of a Personal Identification Number, which Visa® does not process.
Does ALEC offer fraud protection?
Yes, you will receive text fraud alerts if we detect suspicious activity. Additionally, ALEC diligently monitors your accounts for indications of fraud, criminal attempts, and scam attempts, either against your financial accounts or your personal information.
What is the difference between a Free Checking and a Rewards Checking account?
A free checking account means you don't pay monthly fees or have a required minimum balance.
Things are a little different with an ALEC Rewards Checking account. While there is no required minimum balance, there may be a $5 monthly fee if certain requirements are not met. In return, you can receive monthly ATM rebates of up to $10, dividends on balances, and 10 free transactions at non-ALEC ATMs per month.
What are the additional benefits of a Visa® debit card?
With an ALEC free checking account, you'll receive a Visa® debit card, offering the following benefits:
Add a special photo to personalize your debit card. There is a $9.95 per image charge.
Easy withdrawals of up to $750 every 24 hours.
Free access at more than 30,000 ATMs in the United States and Canada, with no ATM fees in the form of surcharges.
Card is accepted worldwide.
Control your card with the ALEC Debit Card app.
If you believe your card has been lost/or stolen, and you report it to ALEC within 2 business days, you can lose no more than $50 from your account, and you will not be held liable.
Enjoy cashback debit purchases where offered.
Need assistance? We're here to help!
---
* Free checks limited to the ALEC check design.
** There will be a fee for each transaction over the amount noted. See
ALEC's Fee Schedule
. Please note, there may be a fee assessed by the ATM owner, if it is not part of ALEC's surcharge-free network.
*** Subject to approval. If current account upgrade, account must be in good standing within the last 90 days. We pay overdraft fees at our discretion, which means we do not guarantee that we will always authorize and pay any type of transaction. We reserve the right not to pay. If we do not authorize and pay an overdraft, your transaction will be declined or returned.
†
ALEC members with a loan from the credit union who receive approval for another loan automatically receive a 0.50% discount. Members with no loan from ALEC must have an ALEC checking account with a $500
direct deposit
per statement cycle and be enrolled in
E-Statements
to qualify for a 0.50% discount. Discount not valid on credit cards, mortgages, personal lines of credit and home equity lines of credit.