Visa® debit card
A debit card created for freedom and flexibility
The ALEC Visa® Debit Card is all about giving you freedom and flexibility. It puts you in immediate touch with your money and allows you to pay electronically with a quick swipe of your card — a lot faster than writing a check.
Along with making purchases more convenient for you, the ALEC Visa® Debit Card also can be used to make withdrawals from an ATM. Funds are instantly deducted from your linked ALEC Free Checking, ALEC Rewards Checking or ALEC Savings account.
Personalize your debit card by adding your own special photo.
Easy Withdrawals
Withdraw up to $750 per 24-hour period from your ALEC account.
Access at over 30,000 surcharge-free ATMs in the U.S. and Canada.
Zero liability against fraudulent debit signature transactions.
Accepted Worldwide
Use your ALEC debit card anywhere Visa® is accepted without worry.
Digital Wallet
Add your ALEC debit card to your digital wallet.
---
* There will be a fee for each transaction over the amount noted. See
ALEC's Fee Schedule
. Please note, there may be a fee assessed by the ATM owner, if it is not part of ALEC's surcharge-free network.
Activating Your Visa® Debit Card
When you receive your ALEC Visa® Debit Card, call the Activate Cards/Reset Pin phone number, 800.992.3808, and follow the voice prompts to immediately activate it.
Notify us of your travel plans
ALEC takes your account security seriously. We strive to protect your assets from fraudsters. All ALEC Visa® Cards are screened by ALEC's fraud monitoring 24/7. Whether you are traveling, shopping, or spending some quality time with family, ALEC is there to help protect your accounts.
ALEC wants your next trip to be as hassle-free as possible. To prevent any temporary card suspension or purchases being denied, you can also notify us by calling 24/7 to 800.762.9988, sending a secure message through Online Banking or stopping by any Service Center.

Lost or stolen debit card?**
If your ALEC Visa® Debit Card is lost or stolen, please contact us to report it immediately.

To contact Visa®, please call 800.472.3272 to report it immediately. If you are international, please contact us.
Your ALEC Visa® card comes with worry-free protection. Should any unauthorized transactions occur on your card within the Visa® network, you're 100 percent covered against fraudulent activity — with zero liability on your part.
---
** Tell us at once if you believe your card and/or code has been lost or stolen, or if you believe that an electronic fund transfer has been made without your permission using information from your check or draft. Telephoning is the best way of keeping your possible losses down. You could lose all the money in your account (plus your maximum overdraft line of credit). If you tell us within 2 business days after you learn of the loss or theft of your card and/or code, you can lose no more than $50 if someone used your card and/or code without your permission. If you do NOT tell us within 2 business days after you learn of the loss or theft of your card and/or code, and we can prove we could have stopped someone from using your card and/or code without your permission if you had told us, you could lose as much as $500. Additional Limit on Liability for Debit Card. Unless you have been grossly negligent or have engaged in fraud, you will not be liable for any unauthorized transactions using your lost or stolen debit card. This additional limit on liability does not apply to ATM transactions or to transactions using your personal identification number, which are not processed by Visa®.
Turn your debit card on and off, in an instant, for any reason.
ALEC Debit Card Valet
Keep tabs on your debit card with the ALEC Debit Card Valet app.
With the ALEC Debit Card Valet app, you can save time and gain peace of mind knowing you can control the cards in your wallet with the phone in your pocket. If you can't find your debit card, you can instantly lock the card to prevent fraudulent charges from being made. Don't worry; you can also instantly unlock the card when it turns up in the dryer or refrigerator. (No judgment.)
With ALEC Debit Card Valet, you can set spending limits, get purchase alerts in real time, and limit transactions to a certain area using your phone's GPS, all while having the ability to personalize your own security settings to suit your busy lifestyle. With convenience like that, we may see less of you here in the branch, but we'll still be here if you need us. We'll miss you, so stop by once in a while, even if it's just to say "hi."
Get instant alerts whenever your card is used.
Protect yourself against fraud.
Customize alerts for your transactions.
Track spending.
Download the ALEC App to your phone.
For iPhones, search and download the ALEC Debit Card Valet app from the Apple App Store. For Android-powered smartphones, download our app from the Google Play Store by searching "ALEC Debit Card Valet."
---
App store is a service mark of Apple Inc. Google Play is a trademark of Google Inc. Data charges may apply. Check your mobile phone carrier for details. Apple and the Apple logo are trademarks of Apple Inc., registered in the U.S. and other countries.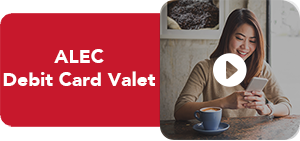 With the ALEC Debit Card Valet app on your phone, you protect the cards that are in your wallet. You will have the ability to turn your debit card "on" or "off" anytime. When it's "off", no one can use your card. Turn it "on" when you're ready to use it. Watch this video to learn more about the features and a tutorial for setting up your preferences.
Fraud Monitoring
Our text alert service allows you to instantly keep tabs on suspicious card activity.
At ALEC, we want to make sure that using your debit card is always as safe and convenient as possible. That's why we use text alerts as part of our ongoing fraud monitoring program.
With text fraud alerts, if our system detects suspicious activity on your card, you may receive a text message with details about the suspected transaction. All you have to do is respond to the text to confirm the transaction. If you indicate the transaction is fraud, you'll receive another message with a number to call for follow-up. If not, you're all set. The system will mark the transaction as legitimate, and you can get on with your day - simple as that.
Getting Started:
If we have your mobile phone number on file, you don't have to do anything. It's really that easy. If there is suspicious activity, we'll send a text alert right away. If you need to verify an alert, give us a call at 877.253.8964. To update your mobile number, give us a call at 800.762.9988.
Debit Personalization
Give your card that extra touch. Choose your own special photo to personalize it.
It's your Visa® Debit card - so why not make it a card like no other? ALEC offers you an opportunity to create a personalized debit card that features a photo from your individual collection - or, alternatively, you can put a picture of yourself on it and use it as a photo ID.
A Visa® Debit card embellished with a special photo is a fun way to put your own distinctive stamp on your transactions. So why not get one, and let your personal style shine through every time you use it?
Best of all, ALEC Rewards Checking account holders can order two customized cards free of charge.* For ALEC Free Checking accounts, there is a $9.95 per image charge. Ready to make your card really stand out? Here's all you need to do:
For a PERSONALIZED card (featuring a photo you select):
Click on the "Personalized Card" image to get started
Upload your desired image
Click "Submit" to send the image for approval
Upon approval, your personalized card order will be placed.†
* Rewards Checking account holders are eligible to receive two personalized debit cards (plastics, not images) at no charge. If a member is the only owner of the account, the member can get his/her first card and image for free, as well as his/her second card and image at no charge. Joint account members will get their initial two cards for free. After that, a $9.95 one-time charge per image applies.
Free Checking account cardholders can request a personalized debit card; however, they will be charged $9.95 per image. There is not charge for renewal cards using the same image. Personalized cards are not available for the Select Rewards™ Visa® cardholders or ATM cardholders.
† Your personalized ALEC Visa® Debit card is typically mailed to you within 10-14 days of your approved submission.
Have questions? We're here to help.