Keep tabs on your debit card with Card Concierge.
With the Card Concierge app, you can save time and gain peace of mind knowing you can control the cards in your wallet with the phone in your pocket. If you can't find your debit or credit card, you can instantly lock the card to prevent fraudulent charges from being made. Don't worry; you can also instantly unlock the card when it turns up in the dryer or refrigerator. (No judgment.)
With Card Concierge you can also set spending limits, get purchase alerts in real time and limit transactions to a certain area using your phone's GPS, all while having the ability to personalize your own security settings to suit your busy lifestyle. With convenience like that we may see less of you here in the branch, but we'll still be here if you need us. We'll miss you, so stop by once in a while even if it's just to say "hi."
Get instant alerts whenever your card is used.
Protect yourself against fraud.
Customize alerts for your transactions.
Track spending.
---
With the Card Concierge app on your phone, you protect the cards that are in your wallet. You will have the ability to turn your debit or credit card "on" or "off" anytime. When they're "off", no one can use your card. Turn them "on" when you're ready to use them. Watch this video to learn more about the features and a tutorial for setting up your preferences.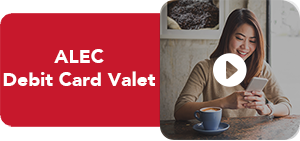 ---
App store is a service mark of Apple Inc. Google Play is a trademark of Google Inc. Data charges may apply. Check your mobile phone carrier for details. Apple and the Apple logo are trademarks of Apple Inc., registered in the U.S. and other countries.